Crates and Kennels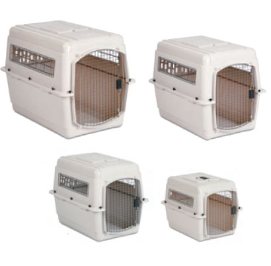 Custom Crates and Kennels

No one likes uncomfortable travel, including your pets. Because your pets don't have the luxury to wander while being transported, it's important that their crate is designed with their comfort in mind.
Made to fit your pet perfectly, Animals Away offers custom designed crates for pet transportation, ensuring not only comfort but safety, no matter where you need your pet to go. Crates are built to the International Air Transport Association (IATA) guidelines. Whether you need a large crate, a small crate, or something small and detailed, our goal is to create exactly what your pet needs for pet travel. Available in a variety of sizes and styles, you can find the right crate for your traveling needs.
Below is a list of standard crates that we offer for pet transportation. Do not hesitate to contact us with any questions regarding our custom options, and what we can make for you.
Standard Pet Shipping Crate Sizes:

Small #100 – 21x16x15

Med #200 – 27x20x19

Intermediate #300

–

32x22x23

Large #400 – 36x24x26

X-large #500 – 40x27x30

Giant #700 – 48x32x35

(Shown On Right)
These are standard pet travel IATA approved pet shipping crate and kennel sizes. These sizes can vary from brand to brand (please see note below). We can provide custom size animal shipping containers to accommodate any and all pet sizes. If you have your own pet carrier please refer to the dimensions below. We use Vari / Petmate brand crates. As long as the dimensions are within an inch or two, and it is a plastic crate with a metal gate, most other brands, with the exception of the Nylabone collapsible, would be fine to transport a pet. The below dimensions are the base guidelines according to pet airline proper kennel sizes for dog shipping and cat transportation. All pet travel carriers must have metal bolts. There are a few types that have clips, or a dial, and these are not air travel approved.
Note – There are many different brands of pet travel crates and kennels.There are small size differences from brand to brand, and store to store. As long as the crate is bolt-together plastic with a metal gate, and within two inches of the crates listed and pictured above, it would be considered suitable for pet transport. The giant #700 will always be 35 inches tall from all manufacturers.